This is a digimon fan character
Xenosaiyan57
03:23, March 8, 2011 (UTC)xenosaiyan57
He is a 14 year old living in Staten island,he met his digimon while finding out on the digitheories web site that Elijahs digital world was just a copy and that the real one is about to invade the real one.
His digimon
Edit
His digimons name is shoutmon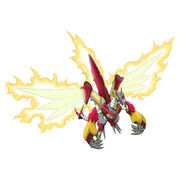 x3gm a powerful dragon digimon who is a combination of shoutmon,greymon and others.
Ad blocker interference detected!
Wikia is a free-to-use site that makes money from advertising. We have a modified experience for viewers using ad blockers

Wikia is not accessible if you've made further modifications. Remove the custom ad blocker rule(s) and the page will load as expected.