This article was written by Zel'no'di. Please do not edit this fiction without the writer's permission.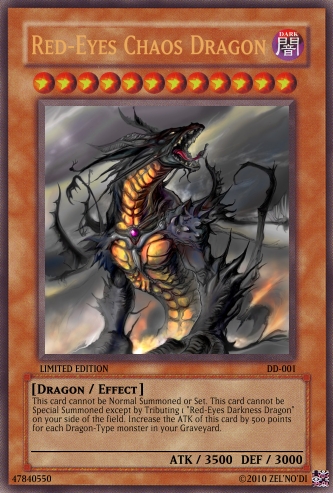 On Zankai's 16th birthday his father bought him his first dragon deck.In the deck he found a rare and powerful Red Eyes Chaos Dragon.He also found the Red Eyes Black and the Red Eyes Darkness Dragon.The combination of the Red Eyes forms make his deck unstopable.He has never lost a duel with this card.
Attack,Defense,and Effect
Edit
His Attack points is a powerful 3500.His Defense his a strong 3000.While his effect gives him a 500 attack boost for every dragon his your grave.But this monster can only be summoned by sacrificing 1 Red Eyes Darkness Dragon.
Ad blocker interference detected!
Wikia is a free-to-use site that makes money from advertising. We have a modified experience for viewers using ad blockers

Wikia is not accessible if you've made further modifications. Remove the custom ad blocker rule(s) and the page will load as expected.